It's been a long time since I've posted, but because of a few conversations and a few things I've seen lately, I thought it was time to start again. And what better way to start than with the story of
Mike Sweeney
.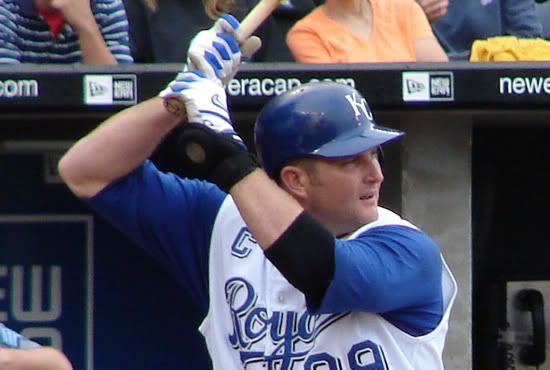 I'm not going to retell the story of
Mike Sweeney
- Joe Posnanski does a terrific job of that in
his latest essay
. Go ahead and read that first…
Welcome back. Theologian
Alister McGrath
writes, "We are all on a journey, whether we like it or not. For some, that journey leads from birth to death and no further. For others, who have come to know God, that journey is more complex." Mike Sweeney is a devout believer, and his journey through over 1450 baseball games without playing in the post-season has been complex, but through all the trials of playing for losing teams, mostly the Kansas City Royals, Sweeney has found joy in playing baseball. His taking an undervalued contract to play in Kansas City is a model of trust in God that overcomes greed. His quiet enduring of fans who later forgot that he took less money than he could have to stay in Kansas City and booed him, is a model of Christlike patience. His thank you letter at the end of his Royals career, noting that "faith, hope, and love remain, but the greatest of these is love," offers a way of sharing your faith with the kind of class that results in a standing ovation (which he receive the next day before his first at bat of his final game). His
building a baseball field
in a part of Kansas City that used to be home to drug dealers is a model of using the resources God gives you to transform part of your world into the kingdom of God.
And now, for the first time, Mike Sweeney is playing post-season baseball. He got a hit in his one at bat against the Reds. Maybe he'll get a chance to pinch-hit in the NL Championship Series. Maybe he'll even get to play in the World Series, if the Phillies can make it there. It would be a delight if he were to have a game- or series-winning hit in one of those series. But even if he doesn't, his complex journey has been a light shining in a professional sports world that is too often full of darkness.
I hope Mike Sweeney gets to pinch-hit in an important moment of the post-season, and I hope he gets a winning hit. But even if he doesn't, he's made far more important hits.